Metal Clad Drawout Switchgear Panel, Air Insulated Metal-Clad Enclosed switchgear 10KV 11KV 12KV 24KV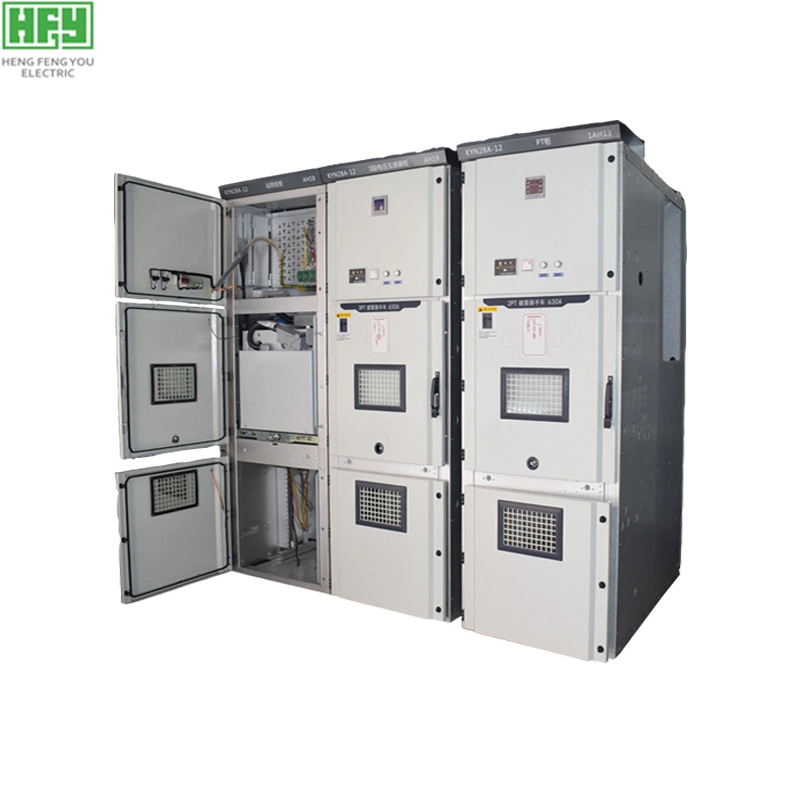 Product introduction
KYN28-12 (GZS1) indoor metal-fitted mid-shift open type switchgear (hereinafter referred to as the switch cabinet) is a three-phase ac 50Hz indoor power distribution unit, which is used to receive and distribute 3-12kv network power and to control, protect and monitor the circuit.The product CAN be installed on the panel of the relay chamber of various types of microcomputer type integrated relay protection devices, and CAN achieve intelligent control of the system, with remote control, telemetry, remote communication and remote control functions, CAN bus with communication interface to control the field network.It also has the function of preventing the wrong operation of the circuit breaker, preventing the trolley from pushing and pulling with load, preventing the electrifying closing grounding switch, preventing the grounding switch from sending electricity at the grounding position and preventing the electrifying interval from entering by mistake, which is referred to as "five defense".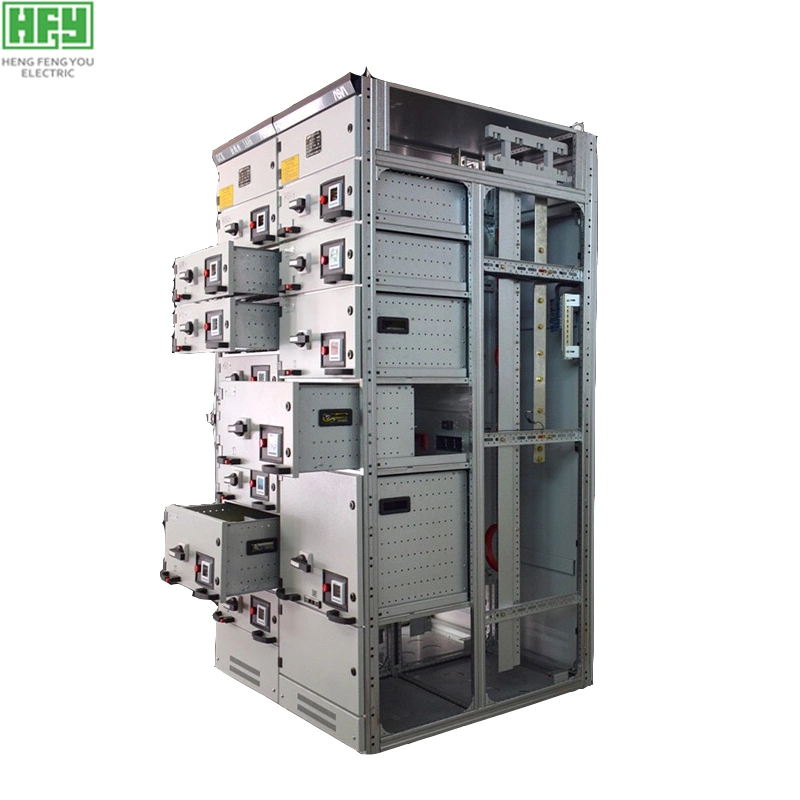 Structural features:
Kyn28-12 metal-armored high voltage switchgear adopts intermediate structure, which saves about 50% of the circuit breaker room and facilitates cable installation.The primary circuit switch is installed on the kola car, which is easy to be interchanged with the size trolley.Due to the armored construction, the components are installed in an earthing compartment separated by a metal partition.The protection grade of switch cabinet is IP4X.Vacuum circuit breaker with permanent magnet mechanism can be equipped with vacuum circuit breaker VS1, VD4, ZN63, etc.The switch cabinet can be connected with the protection system, with the function of "four remote control", realizing the automation of the distribution station.

1. The cabinet shell and baffle board of switch cabinet are made of aluminum-zinc steel sheet after CNC machining and bending, so the assembled switch cabinet can maintain the unity in size.Aluminum-zinc coated steel plate has strong anti-corrosion and anti-oxidation effect, and has higher mechanical strength than the same steel plate.The switch is divided into handcart room, bus room, cable room and relay meter room by partition board.The door of switch cabinet USES electrostatic spray to make its surface has the advantages of anti-collision, anti-corrosion, beautiful appearance (color can be determined by the user).

2. Handcart frame is made of aluminum-zinc coated steel plate after being riveted and welded by CNC machine tools: according to the purpose, handcart can be divided into circuit breaker handcart, voltage transformer handcart, isolation handcart, metering handcart, etc. Handcart of the same specification can be easily exchanged.Handcart in the cabinet from the limited position, test position and working position, each position is equipped with positioning device, in order to ensure that the handcart in the above position can not be moved arbitrarily, and the handcart must be moved to remove the interlock

3. The bus bar leads from one switch cabinet to another switch cabinet and is fixed by the branch bus bar and the static contact box.The flat branch busbar is connected to the static contact box and the master busbar by screw check without any other wire clip or insulator connection.The connection bolts on the busbar row can be insulated and sealed with end caps when required by the user and the project.When the bus goes through the switch cabinet partition, use the bus bushing to fix it.If the internal fault arc, can limit the accident to the adjacent cabinet, and can guarantee the mechanical strength of the bus.

4. The current transformer, ground switch, lightning arrester and cable can be installed in the cable room, and the seamed detachable aluminum plate can be prepared at the bottom of the cable to ensure the convenience of on-site construction.

5. The relay instrument room is used to install various components such as relays, meters, signal instructions, operation switches, etc. In addition, a small bus room can be added at the top of the instrument room according to the user's requirements, and 16 small bus bars can be laid.

6. In the handcart rooms, bus room, above the cable chamber is equipped with pressure relief device, when a circuit breaker or mistress line, cable, indoor internal arc fault occurs, along with the emergence of the arc, switch cabinet internal pressure rise, after reaching certain pressure, pressure release of metal plate at the top of the device will be automatically open, release pressure and discharge gas, to ensure the safety of operators and switchgear.

conditions of use
1.Ambient air temperature: upper limit +40ºC lower limit general area -10ºC;
2.Height: 1000 m;
Sw
itchgear Structure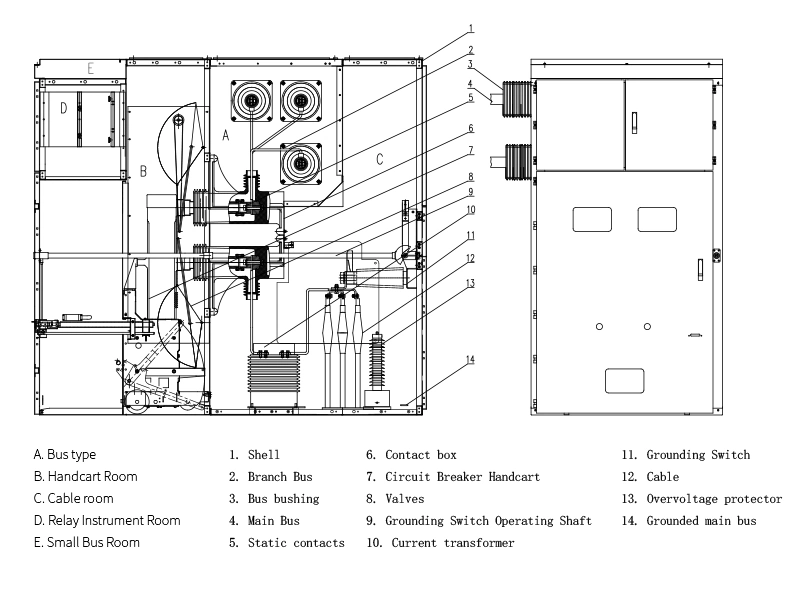 The Specification
Item

Unit

Data

Rated Voltage

kV

3.6,7.2,12

Rated Frequency

Hz

50

Rated Current of Circuit Breaker

A

630,1250,1600,2000,2500,3150

Rated Voltage of Switchgear

A

630,1250,1600,2000,2500,3150

Rated short-time withstand current (4s)

kA

16,20,25,31.5,40,50

Rated Peak Withstand Current (Peak Value)

kA

40,50,63,80,100,125

Rated Short-circuit Breaking Current

kA

16,20,25,31.5,40,50

Rated Short- circuit Closing Current

kA

40,50,63,80,100,125

1min Power Frequency Withstands Voltage

kV

24, 32, 42

Lightning Withstands Voltage , Rated Insulation Leve

kV

40, 60, 75

Protection Grade

Shell is IP4X, Shell is IP2X when compartment and circuit breaker doors are open
Our Workshop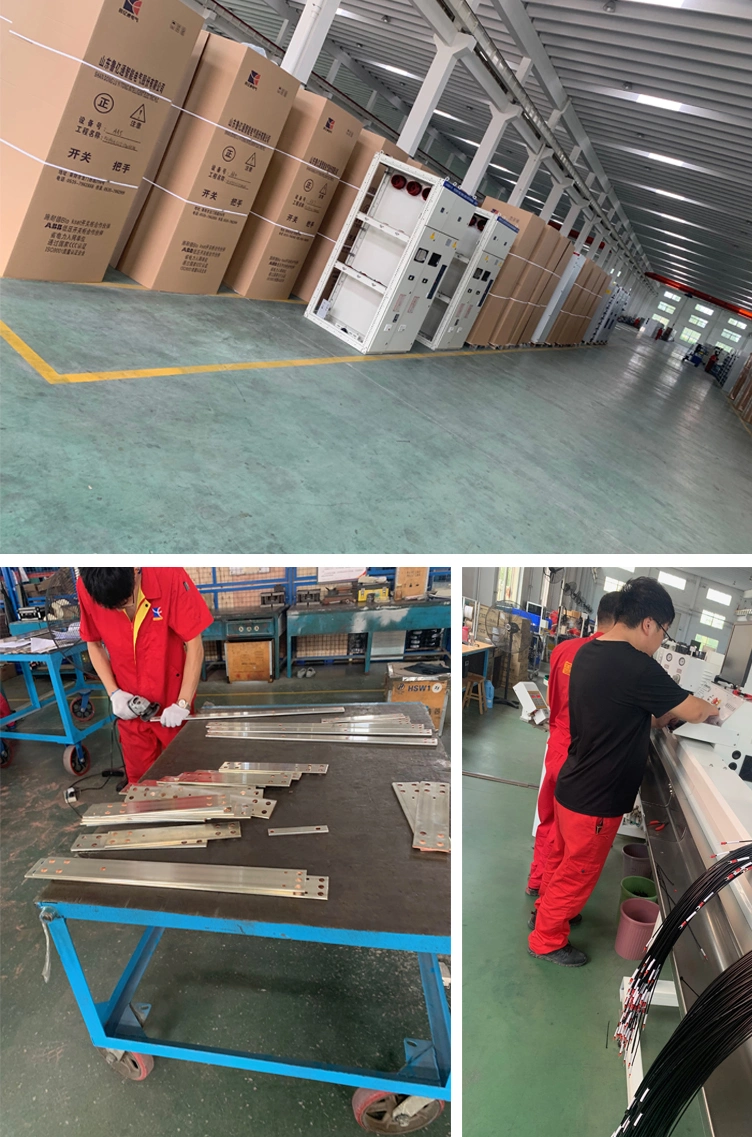 Company introduction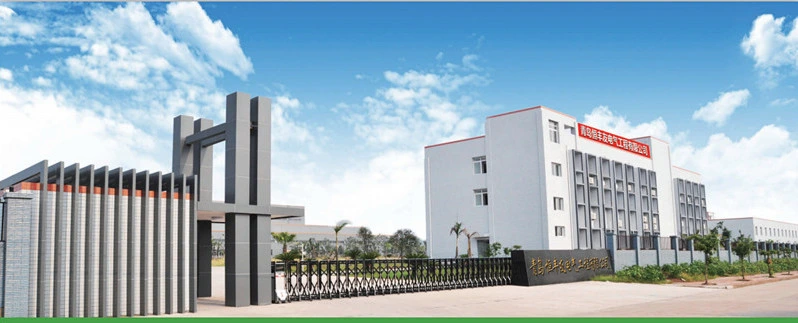 Qingdao Hengfengyou Electrical Engineering Co., Ltd. (hereinafter referred to as Hengfengyou) is a large-scale enterprise group with electricity transmission and distribution as its main business,which integrates scientific research, development, manufacturing and trade. After 30 years rapid economy development in China, Hengfengyou now is a leading R & D, manufacturing and service base for MV
, HV and ultra-HV power distribution equipment in China. At present,we have 50 senior technicians and more than 300 employees, with a complete sales and service system. Our products sell well at home and abroad, and our annual output value adds up to $100 million. .
At present, Hengfengyou has 6 wholly-owned and holding subsidiaries, which are respectively engaged in R & D, manufacturing and service of transformers, switchgear, package/unit substation, pole-mounted high-voltage vacuum circuit breakers, new energy, and electrical engineering.
For a long time, the company has maintained close technical exchanges and cooperation with domestic and foreign universities, scientific research institutes and electric power enterprises.
Hengfengyou independently designed and developed SCB series dry-type transformer and SC series oil immersed transformer. Our product performs with high operation efficiency, and obvious energy conservation. The overall performance index reaches the world's advanced level.
The company also maintains long-term strategic partnership with Schneider, ABB, Simens, Chint and other electric suppliers. We absorbed foreign advanced experience in electrical equipment production and independently designed and developed a series of substation equipment, which realized the automation and intelligence of the substation, and of which the performance has been highly recognized by the user at home and abroad. In the following five years, the company plans to build an intelligent workshop with an annual output of 100000 transformers.Then,the intelligent robot will replace 80% of the existing labor force, which will greatly improve the production efficiency, lower production cost, and produce more energy-saving, environmentally friendly, more safe and reliable the product for the users!
Under China's one belt, one road policy and as an outstanding one of China manufacturing enterprises of power transmission and distribution equipment, Hengfengyou has provided reliable electrical products and services for more than 50 countries and regions in the world. A good reputation of the brand name "HFY" was established in the global market, and won wide recognition and trust from customers.
In the new era, the company will adhere to the service concept of "global intelligent electric service provider, make life better", and adhere to the enterprise tenet of "integrity, innovation, customer achievement". We take "high quality products, wholehearted service" as the team spirit, and provide more excellent products and services for customers at home and abroad. Hengfengyou sincerely hope to establish with clients at home and abroad long-term win-win cooperation facing the future!
HFY Certificate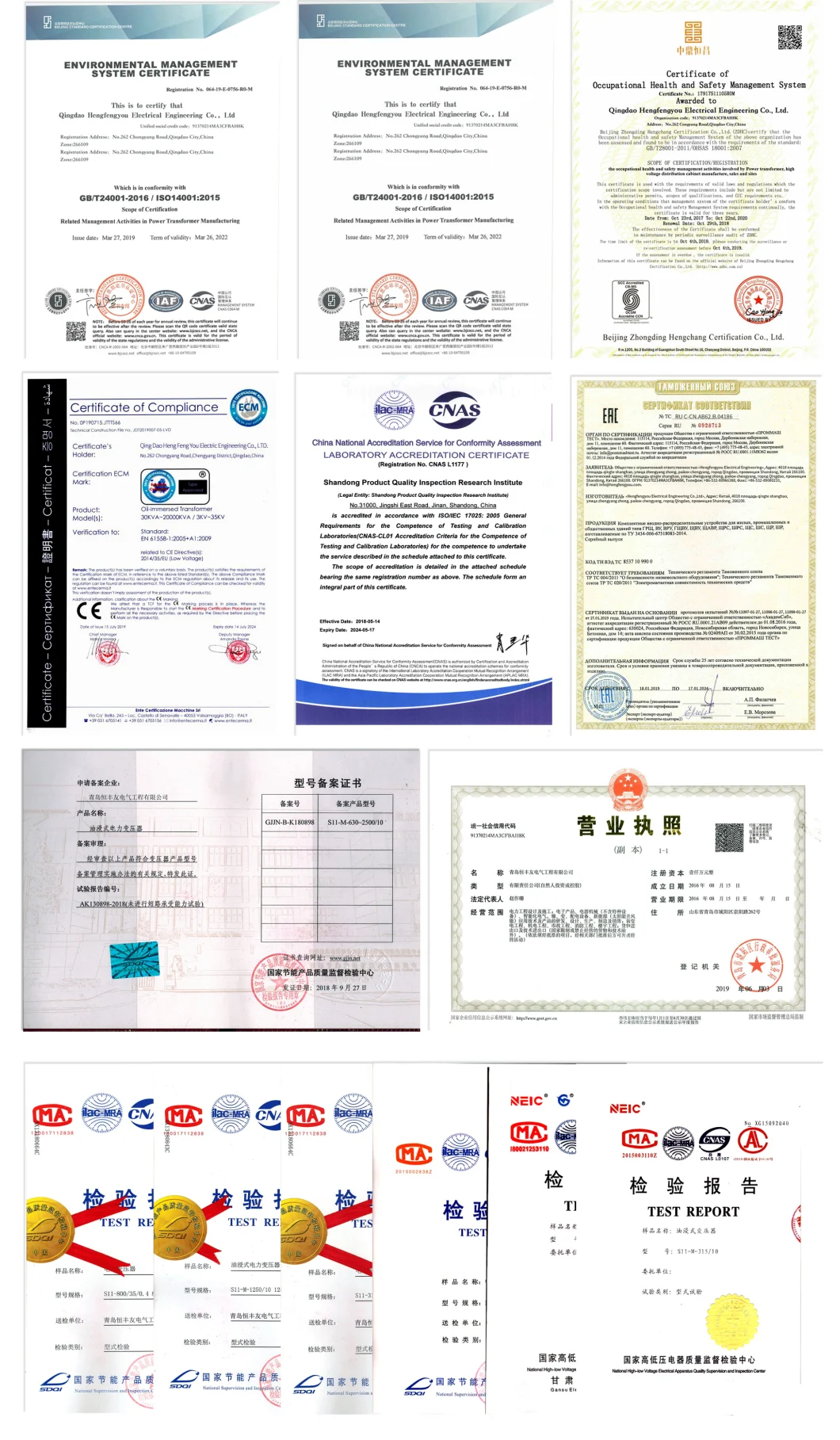 The Finished Power Project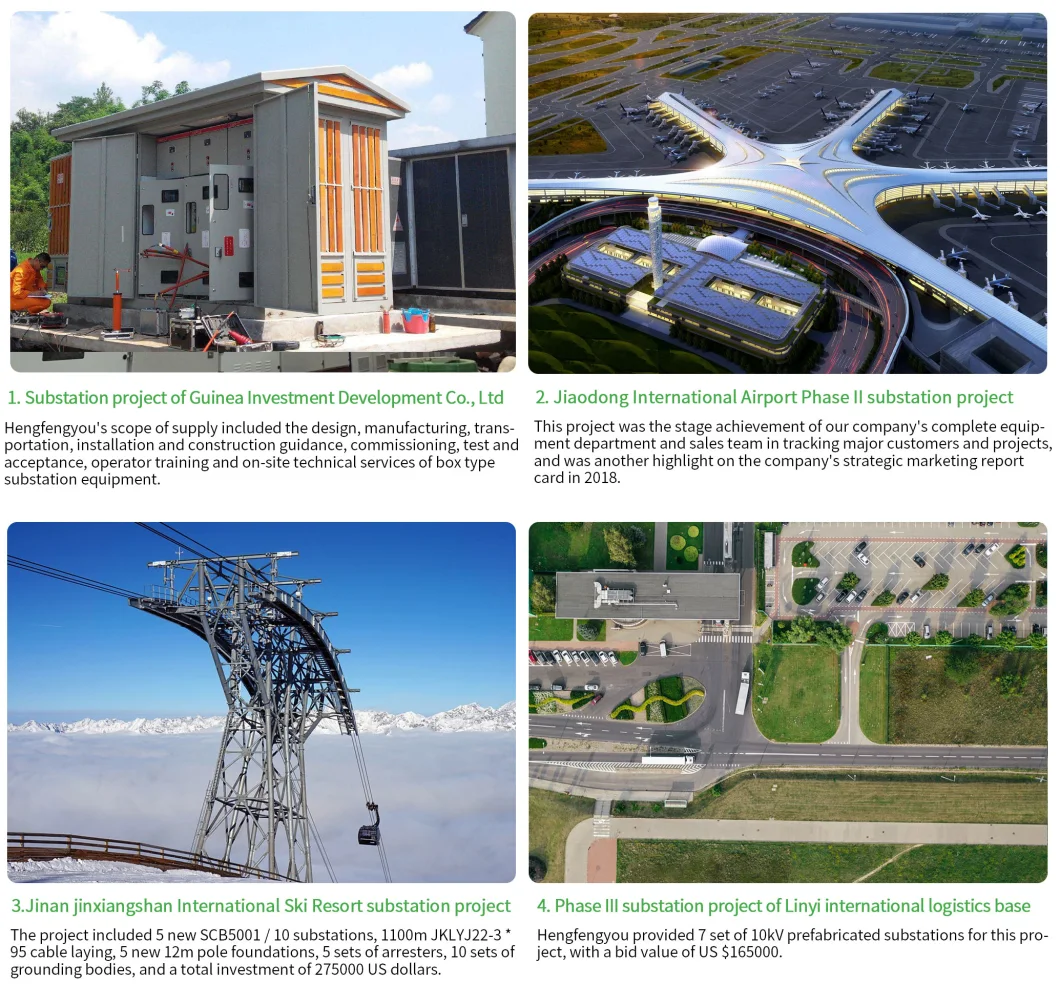 Our Services
1.Pre sale service
a. make technical solution
b. send quotation, technical data sheet and drawing
c. prepare power transmission plan, testing plan and shipment plan
2. In sale service
a. supervise the manufacturing schedule totally in accordance with the plan
b. send photos to customer during every manufacturing process(hold point)
c. inform the customer one week before testing.
d. quick response within 12 hours any time.
3. After sale service
a.All parts are under Two Years Warranty with defects from manufacturer. All spare parts and component can be offered for free from the original manufacturer or HFY.
b. Training
We will provide free training to your technician free of charge at our factory site in Shanghai, China. The total training period would be 2 working days. All travel and related expensed would be at the purchaser's expense.
c. Technical Documents:
Original operation and service manuals, the service manual is completed with wiring diagram, block diagram and trouble shooting information.
d. Installation
Usually, clients can do the installation and operation by themselves when following the detailed English user manual. If clients want our technician do this work, please read the following terms:
The initial installation is not included with the professional HFY team member. All installation with the Hengfengyou team must be scheduled at least 4 weeks in advance before actual trip taken. All necessary connectivity must be ready prior the service being scheduled.
While Hengfengyou team member arrives at the site for a complete and final installation, two days training course will be provide to the customer for operation and maintenance procedure. The initial installation is provided within 5 working days excluding travel days. The actual installation days may vary, based on different machine mode. Each day of working hour consist at 8 working hours. Any additional day will be charge according to our service fee listed below.
When initial installation is being called for the Hengfengyou team required, the surcharge will be made in advance by the purchase at US$100/person/day plus all travel expenses. Travel expenses; local and destination transportation charges (air, train, ferry, bus, taxi or any means of transportation required to arrive to/from destination); accommodation (minimum of 3 star hotel facility) and 3 daily meals
Our Team and Exhibition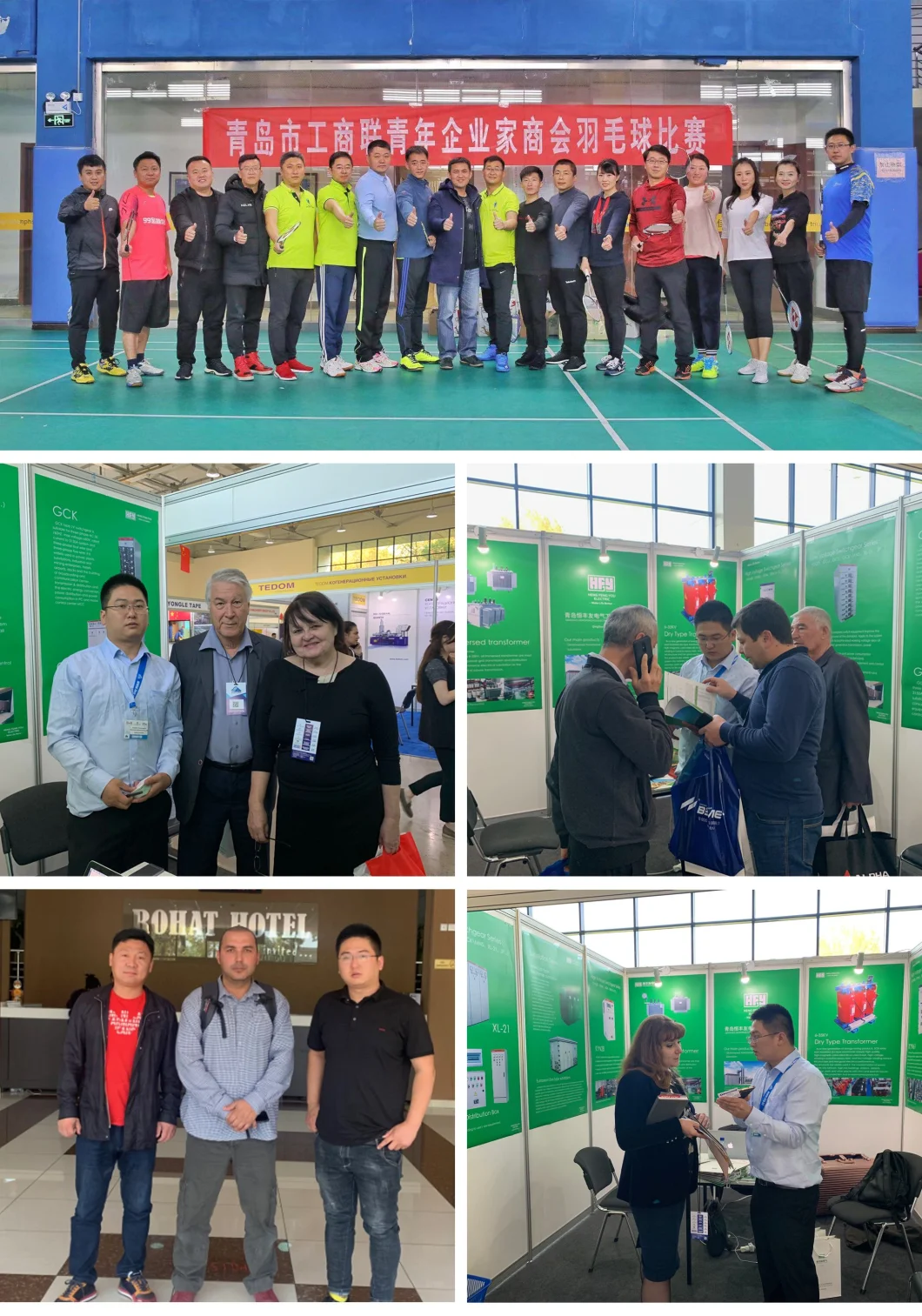 FAQ
Q1: Is OEM/ODM available?
A1: Yes, it is! Our products can be Customized. We have design and engineer teams,we can customize products according to customers' drawing or requirements.
Q2: What's your MOQ?
A2: One Set.
Q3: How is the delivery time?
A3: It depends your order quantity and it normally takes about 15-20 days.
Q4: How do you control the quality?
A4: We have QC team comply with TQM to ensure the quality. Each step is in compliance to the standards. At the same time, we will take photos and shoot video for you if you need.Every product will be fully assembled and carefully tested before packing and shipping.
Q5: How long is the warranty?
A5: Within one year from the sale date, if there are any accessory problems, you just provide the photos of damaged accessory, then we will provide free accessory. According to the number of products, we will provide easily damaged accessories for free. We also can provide technical support if you need.